A story published on Crosscut.com about seeking out new beer in the new year. Published December 2015.
The Best Washington Beers of 2015
by Kendall Jones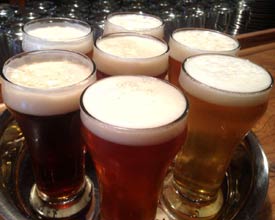 Washington is now home to more than 300 breweries, so it's just about impossible to keep track of what they're all doing. I admit that I have not sampled every new beer brewed in Washington, but I can assure you that I try. It's a noble mission, something of a quixotic endeavor that annoys my wife and worries my doctor.
As in years past, hops seemed to be a recurring theme in 2015. Perhaps it's because of our proximity to the world's most productive hop-growing microclimate, the Yakima Valley, or perhaps it's a reaction to the insatiable appetite of Washington's hop junkies, whose collective love of uber-hoppy beers appears undying. For the more severely afflicted beer geeks, Washington brewers pumped out plenty of barrel-aged and sour beers this year, continuing to put their own Northwest spin on time-honored European styles.
In all, it was a very good year for Washington breweries, but here are the beers that stood out.